Quality Policy
It is our aim to fully satisfy our customers by meeting or exceeding their needs and expectations and thus be regarded by them as the reliable and superior provider of plastic mold solutions and services.
To achieve our aim, we will adhere to the following quality principles and practices:
Communicate honestly and promptly with our customers, listen to them carefully and undertand their needs thoroughly;
Offer reliable mold design of professionalism by means of computer-aided three-dimensional designing technology, pay attention to every detail in manufacuring and leave no efforts to improve in-process quality control;
Develop staff competecies by training program, drive continual improvement and innovation.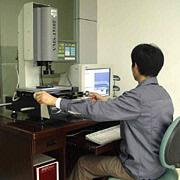 QC/Technical Support
We offer complete solution on molding service under ISO9001 application. We use projectors and other testing machinery to ensure the quality precise.


QC Staff
10 to 19


Materials/Components
Sourced from US, Europe, Japan, Hong Kong, Taiwan and Mainland China.
Procedures/testing Details
Our inspection mainly includes self-testing at every process and testing from next users. CNC procession, EDM procession and grinding are our key testing processes. They are carried out by our experienced QC engineers with high precision 3D projector.